In Lebanon, telcos and major tech companies tend to impact users' privacy and freedom of expression.
A 2018 SMEX report found that out of 66 mobile telecom operators in the MENA region, only 14 published terms of service, seven published privacy policies, and four published both. None of them are Lebanese.
The Lebanese mobile operators are planning to introduce Deep Packet Inspection (DPI) technology, which could lead to an increase in targeted surveillance. One of them has ignored an exploit in their SIM Application Toolkit protocol, enabling third-party companies to access SIM cards and send SMS messages without the owner's knowledge.
Likewise, ride-hailing apps share riders' personal information with drivers, including full names and mobile numbers. In many instances, this practice has violated users' privacy and potentially threatened their safety.
How can tech companies ensure they are respecting privacy and free expression in their products and services?
To answer this question, SMEX worked with Global Partners Digital on a guide for business and human rights in the context of Lebanon: Social Responsibility Is A Business Matter: A Guide For Tech SMEs in Lebanon.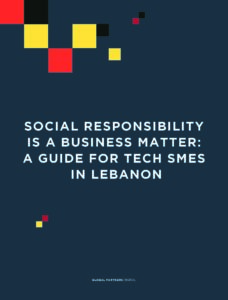 This guide was introduced and discussed during a workshop, on June 21, in Beirut, Hamra, Antwork. Attendees from civil societies and tech SMEs came together to discuss business and human rights issues and what role tech company can have in the respect of users' rights.
Limelines, a Lebanese startup that joined the workshop, shared their story about making a business model without collecting users' identifying information.
This guide is designed to help small and medium tech enterprises ensure that they are respecting privacy and free expression in their products and services.
It covers:
The business case for respecting privacy and free expression as a tech SME.
What these rights mean in legal terms, and the specific obligations. placed on businesses (both internationally and in Lebanon)
Practical ways businesses can start respecting these rights.
What businesses can do in specific scenarios (for example, if asked by a government to provide data on their users)
Useful resources and further reading.
Although this guide is tailored to the local legal context in Lebanon, it's applicable globally, and can be used by tech SMEs in any country.
Human rights defenders will find it useful, too – as a tool to initiate conversations with businesses about human rights; or smply a 'cheat sheet' or reference point when issues around business and human rights arise.
Download the full guide here.