As the Lebanese economy continues to deteriorate, the unofficial exchange rate between the dollar and the lira, officially pegged at $1 USD to 1,507.5 L.L since 1997, reached a peak of $1 to L.L10,500 earlier in March. The record high exchange rate was accompanied by nationwide protests.
The Lebanese government, turning a blind eye to its responsibility in the collapse of the local currency, resorted to arresting unofficial market exchangers and censoring their online platforms. By applying these superficial measures the state is trying to exonerate its institutions from blame.
Lebanese General Public Prosecutor asked security agencies to investigate all those "manipulating and damaging" the national currency. Eventually, security agencies arrested unofficial market exchangers in Tyre (South) and in Chtoura (East), some of whom were previously arrested.
Recently, a high-level meeting at the presidential palace concluded with accusing online unofficial exchange rate platforms of market manipulation and for being the main reason behind the devaluation of the national currency. "The officials announced a crackdown on licensed and illegal money changers who 'speculate' against the lira and a block on electronic platforms that provide the market dollar price."
Afterwhich, the chairperson of OGERO, the backbone infrastructure for all telecom networks and Internet Service Provider (ISP) in Lebanon, Imad Kreidieh, announced in a tweet that he was asked by judicial entities to censor all the unofficial currency exchange platforms that exist online:
Websites
Facebook Pages/Groups
Smartphone applications
According to Kreidieh, OGERO was only able to block websites, yet it can censor neither Facebook Pages/Groups nor smartphone applications. Accordingly, The General Public Prosecutor requested judicial assistance from the U.S. authorities to censor these applications for violating provisions of the National Monetary Law. The claim is that this procedure would stabilize the exchange rate, thus putting an end to attempts of undermining trust in public finances of the State and corrupting supply/demand base in the country through fraud. However, OGERO found another technical way to censor phone applications (the method of censorship will be explained below).
Kreidieh then stressed OGERO's "commitment to implement all judicial decisions" and published a list of the censored platforms (17 so far) on their blocklist site. What this really means is that OGERO and other ISPs are serving the state by repressing freedom of expression.
According to the site, the censorship implemented a judicial order given by the Financial Public Prosecutor. However, the judicial decision is not publicly available.
Is it legal to indefinitely censor websites and applications in Lebanon?
Lebanese laws allow the state to censor websites for a duration of 30 days with a legal justification, renewable once. According to the E-Transactions and Personal Data Law (Law 81/2018), Articles 125-126, the court examining a case may order in its final decision "the suspension of certain electronic services, block certain websites or cancel accounts on such websites in case they are associated with crimes relating to terrorism, child pornography, prohibited gambling, organized electronic frauds, money laundering, crimes against internal and external security or crimes of compromising IT system integrity such as spreading viruses." (Article 125).
Article 126 outlines the procedure. The public prosecution cannot order to suspend/block/freeze electronic services or websites or accounts for more than 30 days. This period can only be renewed once through a justified decision. The investigating judge or the competent court examining the case may decide on such actions temporarily pending the final decision on the case. The judicial authority may also reverse its decision in case new compelling circumstances arise. The decision of the investigating judge or the court to suspend certain electronic services, block websites, or freeze accounts on such websites may be duly challenged within the time limits of the release decision (48 hours).
Mohamad Moghabat, PhD candidate in International Constitutional Law, told SMEX that the General Public Prosecutor decision to arrest market exchangers could have been based on Article 319 (addressing those who manipulate/harm the national currency) and Article 209 (means of publication) of the Penal Code, in addition to Monetary and Credit Law.
Exactly how does censorship happen in Lebanon?
Below is a brief description by SMEX's technical team on how Internet Service Providers (ISPs) can or can't censor the exchange rate services on different platforms:
1- Website Censorship: Can be censored by ISPs
ISPs – like Ogero or Touch – can block websites using a censorship method called Domain Name System (DNS) filtering. DNS is the phone book for the web, where it translates website names (like Google.com) into a language computers can understand. That language, the language of IP addresses, is a string of digits like 8.8.8.8 (Google.com). Since it is hard to memorize these digits, DNS translates the IP address into the common names known by users. This translation is done by a server called DNS resolver.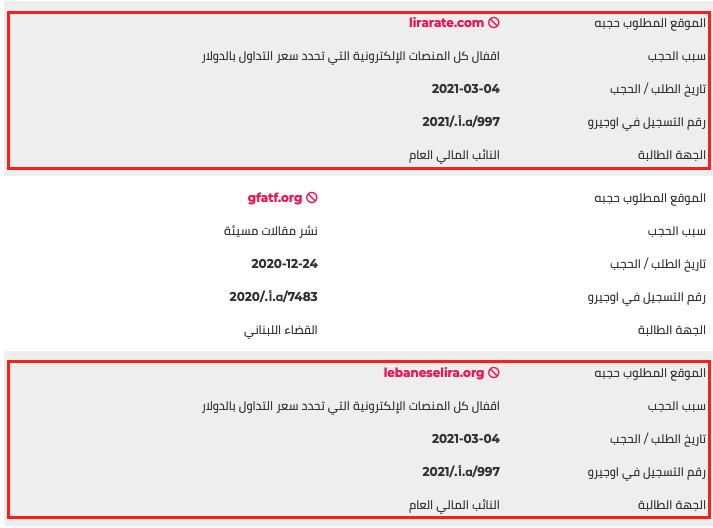 DNS filtering is the practice of blocking access to certain sites applied by ISPs for a specific purpose, often content-based filtering.
There are two ways to perform DNS filtering:
By domain: The DNS resolver does not resolve, or look up, the IP addresses for certain domains at all.
By IP address: The DNS resolver attempts to resolve all domains, but if the IP address is on the blocklist, the resolver will not send it back to the requesting device.
ISPs in Lebanon have and continue to censor websites using this method.
2- Facebook Pages/Groups Censorship: Can not be censored by ISPs
Hypertext transfer protocol secure (HTTPS) is the secure version of HTTP, which is the primary protocol used to send data between a web browser and a website.
When accessing sites over HTTPS, all of the content is encrypted except the name of the site. Since the ISP can only see the site name, it can only block the entire website – using DNS filtering.
In this case, the ISP will not be able to censor a particular Facebook page (example: https://www.facebook.com/smex) since it can not see the subpages within Facebook. Thus, if the ISP wants to censor the currency exchange rate platforms pages and groups they have to censor Facebook.com; which is a highly implausible scenario.
In his tweet, Kriedieh said that it is impossible to block Facebook groups and pages due to the above reasons.
3- Apps Censorship: Can be Censored by ISPs
Around a year ago, there was an attempt to censor similar applications hosted on Google Play Store, yet the attempt inadvertently blocked Google Firebase services which is an essential backend service for applications.
In this case, there are two ways to censor mobile phone applications:
By Servers: ISP can censor the backend servers the application communicates with. Using this method, the ISP will hinder the application to update its content, yet will not be able to prohibit users from downloading it. However, discovering the backend servers of the application is not a straightforward process.
By Store: The state can submit an official letter to the Applications Store (Apple App Store or Google Play Store) to take down a particular application. Usually, application stores do not respond to such requests. Also, Android users can still download applications from third-party stores/sites even if they were taken off the official Play Store (which is not recommended).
In this case, ISPs already censored the backend servers of several applications and OGERO published them on the blocklist site.
SMEX's technical team can confirm that several ISPs already censored both www.lirarate.com and www.lebaneselira.org, among others.
How to check if my ISP blocked these online platforms? And how to circumvent the censorship?
Users in Lebanon can check if their local ISP has censored any of the unofficial exchange rate online platforms in a single step.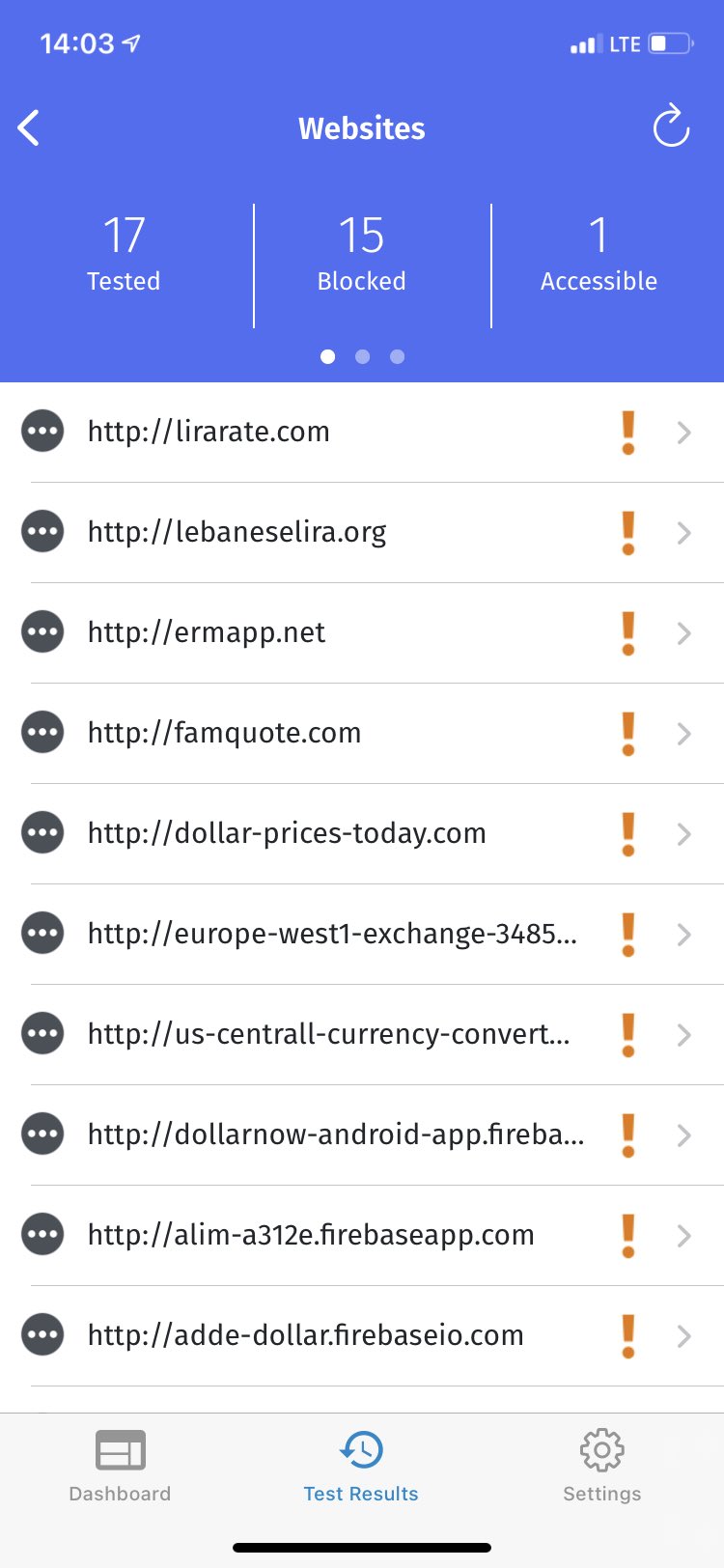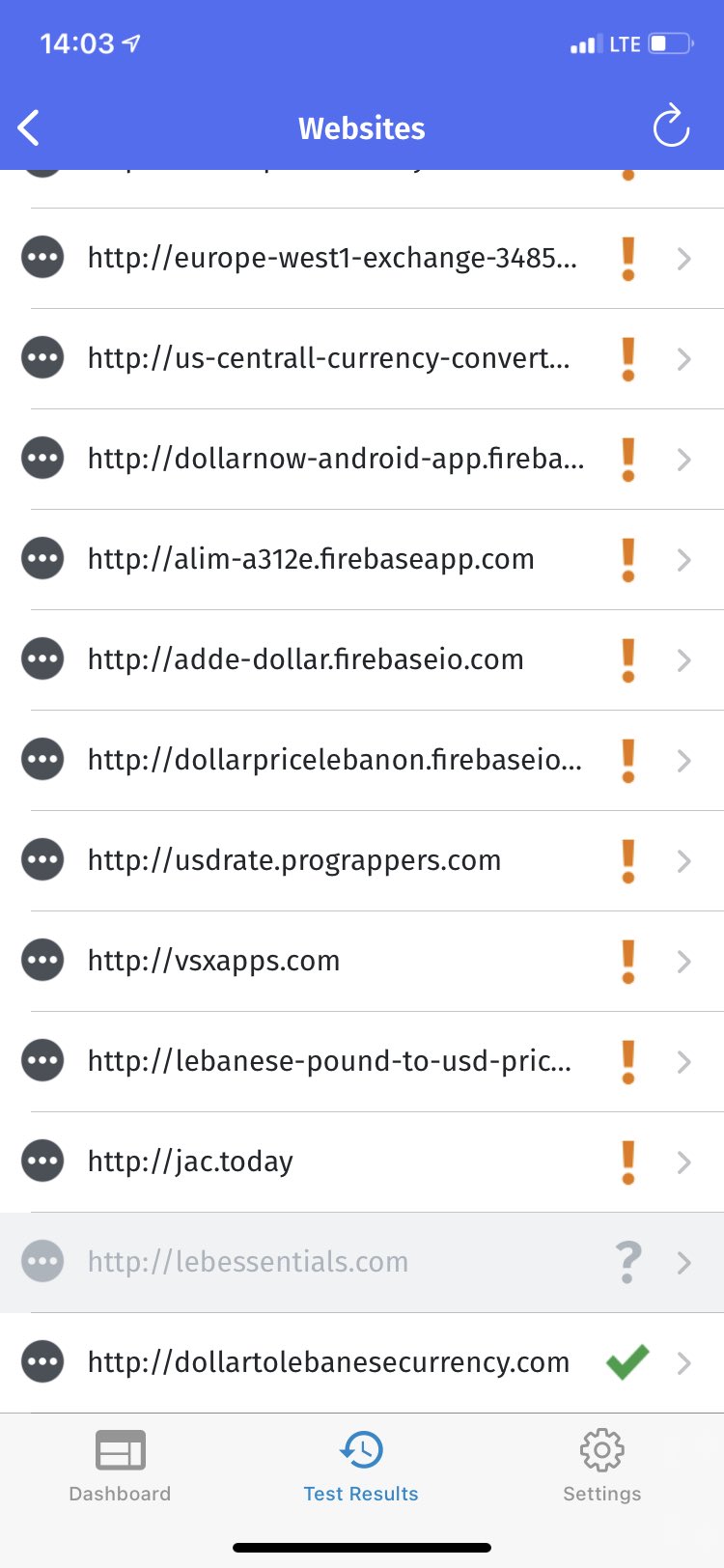 Install the OONI probe application on your mobile device:
Click on this generated link to start the test
Explore the results here
All censored online platforms remain accessible via Virtual Private Networks (VPN) like Psiphon (Android or iPhone).
Censorship is not a solution
This crackdown on freedom of speech is not new on the Lebanese scene. Last year, the Lebanese General Prosecutor ordered the Ministry of Telecommunications to compel all internet service providers to block 28 applications, claiming that these applications were circulating false information about the "unofficial" exchange rate between the dollar (USD) and the Lebanese Lira (L.L).
As aforementioned, articles 125 and 126 of E-transactions and Personal Data Law (Law 81/2018) permit the suspension of websites and applications and define the due process with a maximum of 30 days, renewable once. In this case, the unpublished judicial decision does not specify the duration of censorship.
SMEX condemns all internet censorship decisions. Internet censorship restricts access to information, impacts other internet services, and contributes to restrictions on the freedom of expression on matters related to financial issues. The Lebanese state should not waste its resources on blocking websites and normalizing censorship, but rather focus on addressing the economic crisis. The technology used to publish the unofficial exchange rate is not the problem, rather, the real issue lies with the depreciation of the national currency due to years of negligence, corruption, and evasion of responsibility.
The increase in website censorship accompanies an increase in detentions related to freedom of expression, which SMEX has recorded on Muhal.
Recommendations
Based on the censorship decisions taken by the state, we make the following recommendations:
We call on the Lebanese government and governmental agencies to stop censoring websites and applications without due process of law especially when it comes to the duration of censorship.
We call on the Ministry of telecommunications to protect freedom of expression and to avoid censorship at all costs unless there's a justified decision from a court of law.
We call on OGERO, Ministry of Telecom, Financial Public Prosecutor, and/or all related parties to publish the legal rationale used to censor these platforms.
We call on the Lebanese government and governmental agencies to publish a transparent process on how and who takes the decision to block websites.
We call on OGERO to publish (upload/attach) the judicial decisions it refers to on its blocklist site.
---
This article was co-written by Ali Sibai, Digital Safety Helpdesk Manager at SMEX. Ali is a digital security consultant with an interest in research on internet disruption, censorship, surveillance, and safety. Follow him on Twitter @alisibai.
This page is available in a different language العربية (Arabic) هذه الصفحة متوفرة بلغة مختلفة