Introduction
One day in early 2015, Habib Battah, an investigative journalist who operates the website Beirut Report, noticed new construction works in the city's Hamra district. Hoping that this was the physical manifestation of much-touted plans to upgrade the notoriously slow internet in Lebanon, he observed thin blue pipe being laid into newly dug trenches, and "mystery boxes" popping up all over the neighborhood.
Initially, he asked himself "Does that mean there are hard drives in there and thus…internet??" but the hope was short-lived. Soon afterward, near one of the trenches, he saw a sign for Guardia Systems, a security company known for installing surveillance systems and providing security for ABC, a local shopping mall franchise in Beirut.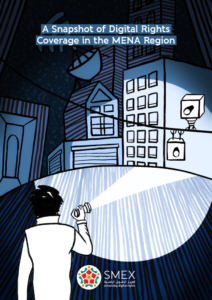 "So maybe the blue pipes are not water, electricity or internet—maybe they are just security camera feeds?" he deduced. A little more research confirmed his hypothesis, and he documented both the installation of metal poles "studded with cameras" and found a news story about Guardia winning a $36 million contract to install more than 1,850 cameras to monitor the street-level activity in a project called Beirut City Surveillance.
In the course of his investigation, Battah had talked to workmen, taxi drivers, and ministry advisors, yet he could not get a clear answer about the purpose of these cables and boxes. He consulted the websites of government agencies, the Beirut municipality, and Guardia Systems, but they also yielded no answers. The only information he could find in the local news concerned the contract with Guardia and assertions that it had been illegally awarded. "I don't even remember this coming up," he wrote in the post, "let alone the ethical debates about surveilling the entire Ras Beirut population."
Three years later, SMEX dug deeper to answer several of the questions we had raised in our own 2016 update on the Beirut City Surveillance project, sourced from a UK-based trade magazine. Questions like: Where would the data collected by surveillance cameras be stored? For how long? Who would have access to it? Would it be used to record traffic violations? Would it be used as evidence in other kinds of crime? However, SMEX ran into many of the same information-gathering obstacles as Battah, including unwilling interviewees and lack of accessible documentation, as well as fear of reprisals for attempting to publicly map the cameras – as a result, we temporarily abandoned our efforts.
The difficulties faced by researchers and journalists–and particularly investigative journalists–when attempting to access digital rights-related information in Lebanon and throughout the MENA region are not new. A lack of cooperation by government officials, a dearth of reliable access to public information such as tenders and records of decision-making, and a pervasive fear of being charged with crimes–ranging from defamation to threatening national security– actively prevent investigative journalists across the region from advancing reporting in the public interest.
Journalists need to understand the technical aspects of how digital technologies and the internet function in order to be able to report on the implications of mass surveillance, website blocking, data retention, and legal restrictions on encryption and circumvention technologies. They should also have a grasp of both international human rights norms and national legal frameworks in order to assess the capacity and responsibilities of governments and corporations in the context of online content takedowns, internet shutdowns, or the protection of personally identifiable data.
Finally, to follow relevant policy developments adequately, they should have a sense of where decisions about policy in the digital sphere are discussed and determined, globally, regionally, and nationally. Taken all together, this is a lot to ask of professionals who are already overworked and underpaid compared to their colleagues in other countries.
The presence of such barriers to entry for the proper investigation and analysis of what has become known as digital rights, also defined as the ways in which networked technologies affect human rights, has meant that editorial coverage by establishment media on these issues is sparse. Such coverage has been steadily entering the mainstream in the United States and Europe since the 2013 Snowden revelations, and with each successive report of private sector mishandling of user data, such as the most recent Cambridge Analytica scandal involving Facebook.
Regionally within the Middle East and North Africa, however, the coverage has not quite caught up. In some Gulf-based media outlets, coverage of issues that directly threaten citizens' data, such as biometric registration systems in the UAE and Saudi Arabia, regularly glosses over the threats that these systems pose to privacy and digital rights in general.
In Lebanon, national media such as Al-Akhbar and The Daily Star have reported on these issues, but original, investigative reporting remains limited beyond these outlets. Regional independent media outlets such as Mada Masr in Egypt, the Jordan-based 7iber.com, and the Tunisian outlets Inkyfada and Nawaat, do a better job in regularly highlighting these issues, but their comparatively fewer resources and greater legal exposure prevent them from engaging in comprehensive daily coverage.
Even if resources were infinite, coverage of digital dilemmas in the MENA still largely lacks the caché needed to attract the most talented journalists. When SMEX put out a call for applications for a paid fellowship to investigate data privacy in Lebanon in mid-2017, several of journalists who were initially encouraged to apply ultimately rejected the opportunity citing a preference to cover regional politics instead, a generally more popular and therefore lucrative area of focus.
These challenges and others, including a pervasive and justifiable public apathy about digital rights issues, prevent journalists from adequately covering and interpreting the rapid development of the digital environment in the MENA region.
In 2016, Wafa Ben-Hassine, the policy counsel for MENA at Access Now, wrote that "the conversation in regards to human rights online [in the MENA region] is typically defined by a strong interest in protecting the right to free speech online," though she noted that "recently digital rights groups have started to focus on the right to privacy more on the global stage." Since then, privacy issues have occupied greater space and covering these issues is more necessary than ever.
To learn more about the obstacles encountered by those covering digital rights in the MENA region, we interviewed 15 journalists and civil society researchers to discuss the challenges and opportunities they see for making visible these structures that have become the infrastructure upon which so much of civic space in the region depends. Interviewees hail from, and cover Egypt, Iraq, Jordan, Lebanon, Palestine, Tunisia, and Yemen; additionally, two of the participants requested to remain anonymous. In the below sections, we outline the challenges these journalists and researchers are currently facing and also identify some potential paths forward.
"One [does not need] to be a web-developer, for instance, to cover digital rights. [However] one should understand how these technologies work, and more importantly their implications." – Anonymous journalist covering Lebanon.
Challenges
Understanding the Technology
For many journalists interested in digital rights issues, a common first obstacle is sufficiently understanding the technologies that drive them, such as the Application Programming Interfaces (API) social media companies use to collect data, or the backbone-level network infrastructures that enable governments to implement national-level internet shutdowns.
Although, as one journalist who requested to remain anonymous observed, "one [does not need] to be a web developer, for instance, to cover digital rights. [However] one should understand how these technologies work, and more importantly their implications." Understanding both the functionality of these technologies and the impact they have on the digital rights of citizens requires a significant time investment.
Almost every digital rights issue, even those that appear to be fairly straightforward, demands that investigative journalists and researchers do a considerable amount of technical background research in order to actually understand the topic they are covering. For example, Battah, who has written extensively on the slow internet speeds in Lebanon, admitted that he had to spend a lot of time researching the technical issues that have to do with internet access–which on the surface appear to be more rudimentary than other digital rights issues–because he did not have "the technological background to understand [issues like] network congestions and submarine cables." While internet access is one of the largest digital rights-related issues in Lebanon, the technical challenges ultimately depend on the country.
A spokesperson from 7amleh center, a Palestinian organization for social media advancement, stressed that the "main difficulty [it faces] is on the technical side," specifically "regarding algorithms and new technologies," which is particularly prevalent because Israel's widespread use of these algorithms to flag content and arrest people threatens the livelihood of Palestinians.
While it may be easy to assume that journalists can always do more research on the technical aspects of these topics, other challenges loom as well.
Governments: Unaware and Unwilling to Cooperate
Governments in the MENA region often fail to grasp the importance of digital rights issues, and even if they do, they are often either hamstrung by constipated bureaucratic processes or simply unwilling to assist journalists in their investigations to begin with.
In other cases, governments fail to properly understand the scope and implications of digital rights issues. In an interview with SMEX, Haydar Hamzoz, the founder of the Iraqi Network for Social Media (INSM), an Iraqi network of bloggers and activists, recalled an instance when INSM informed the government that ethical hackers had easily been able to access a government database. Instead of attempting to fix the loophole, the bureaucratic government officials demanded that INSM provide the names of the hackers, which the organization promptly refused to do.
This type of bureaucracy is not unique to Iraq; in her interview, Ben-Hassine described regional governments as "neither helpful, nor knowledgeable" and stressed that ministries in Tunisia, where she has covered these issues extensively, are particularly difficult to interact with because of "how bureaucratic the whole system is." In Jordan, the Ministry of Information's and Communications Technology (ICT) invites organizations, like 7iber and the Jordan Open Source Association (JOSA) to comment on draft laws.
Sometimes these organizations are successful in influencing these laws, but other times, the government has already made its decision before inviting them to comment, according to Eman Jaradat, a digital rights researcher and policy analyst at JOSA.
Moreover, governments can also be reluctant to provide support or assistance on certain topics. Reem al-Masri, a researcher and journalist at 7iber, noted that at one point the organization's commentary had made it to the second draft of a recent data protection law in Jordan, but when doing journalistic work, it is harder to obtain "information or commentary from [the] government in general in Jordan, which also applies to digital rights."
Outside of Jordan, the spokesperson from 7amleh Center reported that the Palestinian Authority "though often knowledgeable isn't particularly helpful to [their work]." In essence, more often than not, governments either lack digital acumen to helpful or are reluctant to cooperate, which makes it difficult for journalists and researchers to obtain the necessary information about policies and other practices related to digital rights.
Access to Public Information
Beyond cooperation from specific government representatives or ministries, the systematic difficulty of obtaining public information regarding imported technologies, legislation, and court cases across the MENA region constitutes another hurdle for investigative journalists and researchers.
Access to information laws are few and far between in the MENA region, as they currently only exist in Jordan, Lebanon, Tunisia, and Yemen; moreover, private companies are rarely subjected to these laws, rendering them unreliable resources on the impacts of such laws on the rights and practices of users.
In particular, the opacity surrounding biometric identification and surveillance systems in the MENA region makes it incredibly difficult for journalists to cover their capabilities.
At SMEX, we have covered the Lebanese government's adoption of biometric technologies over the past two years – the government has regularly sidestepped or avoided our requests for information. When SMEX produced a report on personal data collection, titled "Building Trust: Toward a Legal Framework that Protects Personal Data in Lebanon," we asked various government and ministry-level contacts about different facets of the biometric system: the ways data is stored and protected, the level of information exchanged between Lebanon and foreign states, and the coordination with the UNHCR specifically. Additionally, we requested a meeting; in response, the General Directorate of General Security sent us a letter, stating that that "new passports contain mechanisms for safety and trust that are impossible to falsify" and that the biometric cards represent "a technological and organizational development consistent with the Directorate's policy of constantly developing its work," without providing evidence to back up the claims.
Simultaneously, SMEX attempted to use the Access to Information Law to request the details of a government plan to require biometric identification for the purchase of SIM Cards, which was later abandoned; however, the government never responded to our request.
"Laws in the U.S. and EU, where most relevant corporations are based, are pretty vague and they do not enforce any form of obligation on companies to release information about their sales/license to governments." – Marwa Morgan, independent journalist.
Information about surveillance systems themselves can be even tougher to obtain. In many cases, countries in the MENA purchase surveillance software and hardware from international companies, often based in Europe.
Hacking Team, the Italian company recently buoyed by a Saudi investor, has sold its signature FinFisher spyware platform to many hacking groups and governments across the region. Egypt, which has regularly used spyware to target activists, purchases it from a range of international corporations including the French-based companies Ercom and Amesys. As Marwa Morgan, an independent journalist who has covered the purchase of these systems, communicated, obtaining information about these companies proves difficult because "laws in the U.S. and EU, where most relevant corporations are based, are pretty vague and they do not enforce any form of obligation on companies to release information about their sales/license to governments."
Nowhere is this difficulty more acutely felt than in Palestine, as it is nearly impossible for Palestinians to understand which surveillance technologies Israel, which is a global hub for dangerous surveillance technology, uses to spy on them. Palestinian activists and organizations "only [know] how much Israelis [are] spying on them through [leaks from] ex-veterans and people who worked for Unit 8200," according to Marwa Fatafta, a researcher at Transparency International and 7amleh.
Access to legislation also remains a great difficulty for journalists attempting to cover the legal aspects of digital rights issues. For example, Emna Sayadi, the MENA Advocacy Lead for Access Now, noted that she often had difficulty finding laws specifically related to cybercrime and data protection.
Moreover, Ben-Hassine stressed the importance of "documenting these laws in their draft form, so that advocacy organizations can act immediately." This advice is especially pertinent as Access Now, in collaboration with the local organization Al-Bawsala, recently defeated a draft Tunisian biometric law, which could have had Aadhaar-like implications. Ben-Hassine also suggested that in this day and age, the responsibility of documenting these laws should no longer fall on journalists or civil society organizations, but on governments themselves.
"The lack of information begins when the case starts." – Eman Jaradat, Policy Analyst at Jordan Open Source Association (JOSA)
Beyond just accessing and tracking legislation at a high level, it can be incredibly difficult for journalists to accurately follow specific cases of individuals found to be in violation of specific laws, particularly those related to freedom of expression,. When SMEX covered the detention of 65 year-old Lebanese poet Mustafa Sbeity, who was arrested for an innuendo he posted about the Virgin Mary, it was only through constant contact with his lawyer that we learned Sbeity was going to be held for a prolonged period because the judge appointed to his case only worked in the specific court during specific days of the week.
Tracking these cases is even more challenging elsewhere across the region, as many state security agencies are more opaque than Lebanon when it comes to information sharing. Jaradat admitted that JOSA would like to cover more freedom of expression issues in Jordan, but according to her, "the lack of information begins when the case starts," thereby making it harder for JOSA, similar organizations, and journalists to document the process of these detainments.
In a University of Pennsylvania Annenberg School study documenting the needs of digital rights organizations across the world, 33 percent of the organizations surveyed responded that they needed legal data because they had issues finding "comprehensive resources for case law and policy documents covering the areas in which their work was focused."
Access to Information from Companies
Investigative journalism concerning digital rights requires interaction with the private sector, particularly companies that specialize in information communication technologies (ICTs). Usually, companies are only helpful when it serves their own ends; as one of the journalists who requested to remain anonymous noted, "corporate employees and PR people are easy to get ahold of when the news is good."
This is a global trend; in an interview with The Atlantic journalist Adrienne LaFrance, David Streitfeld, who exposed Amazon's treatment of its employees for the New York Times, explained that "tech wants, expects, and quite often gets upbeat pieces," which puts it fundamentally at odds with critical journalism. Companies operating in in the MENA region disincentivize this type of reporting by threatening journalists, only providing select information, and assiduously avoiding certain topics. However, in some cases, investigative journalists and researchers simply find it hard to locate and get in contact with the appropriate representatives of larger technology companies.
The Lebanese telecom industry is good at "obfuscating what users are getting for what they pay, but actually release little information about their prices." – Habib Battah, investigative journalist and founder of Beirutreport.com.
In Lebanon, the cost of broadband and mobile internet remains incredibly expensive when compared to other countries across the MENA. Battah, who has extensively covered internet and mobile data access in Lebanon, insisted that the Lebanese telecom industry is good at "obfuscating what users are getting for what they pay, but actually release little information about their prices." In his effort to investigate Alfa, one of the two government-owned telecommunications companies in Lebanon, he reported one interaction in which the CEO of the company called him and threatened him, ominously telling him that he had "better stop."
While the CEO of Alfa's ultimatum represents a more direct approach, companies often only do the bare minimum, providing limited information off the record or on background, which makes it harder to paint a full picture of these issues.
When SMEX reported on the unavailability of Uber's anonymized calling feature in Lebanon, the representative from the company was responsive, but not transparent about the reason why the company did not offer the feature in Lebanon while indeed offering it in America and other western markets. The representative deflected blame and ultimately made it more difficult to accurately depict the threats Uber's policies pose to user privacy.
In other instances companies, specifically larger technology companies, are willing to discuss a few issues, but more sensitive ones often strike a nerve. Content moderation is a particularly controversial issue in the Middle East, given for instance that YouTube has removed a plethora of videos documenting the Syrian Civil War, which many have claimed contained evidence on human rights violations; furthermore, both Facebook and YouTube claim that their algorithms for removing inappropriate content do not disproportionately target Palestinian users, but a trove of evidence suggests otherwise.
Ben-Hassine mentioned she has had a relatively easy time getting in touch with Google to talk about transparency reporting at YouTube, but has had more difficulty discussing content moderation issues with the company.
Additionally, YouTube told 7amleh that it had not applied different content moderation policies to Palestinians and Facebook has also publicly rejected this notion a number of times, according to Fatafta. If corporations are ambivalent about engaging on some issues, it becomes more difficult for journalists to cover them.
"Big tech is big and it can be hard to navigate the labyrinth." – Wafa Ben-Hassine, Policy Counsel at Access Now.
At more of a basic level, journalists and researchers find it difficult to get in touch with large technology companies. Part of the responsibility lies with the companies to make it clear who those covering digital rights should contact. In Iraq, hackers recently breached the Facebook accounts of activists. INSM tried to reach out to the company, but they received no response. Hamzoz felt that if INSM had stronger connections with Facebook, they might have been able to resolve the issue. As Ben-Hassine succinctly put it: "one hurdle that a lot of new advocates have is that they don't know who to get in touch with at 'opposing camps' because it is important to know who your counterpart is at Facebook or Google. Big tech is big and it can be hard to navigate the labyrinth."
The spokesperson from 7amleh reiterated that it is often difficult for the organization "to find the right contacts inside organizations, such as social media giants etc. for statements, discussions, or to invite to events." Therefore, smaller regional organizations and investigative journalists committed to doing this work have a harder time covering issues that directly affect the users of large social media platforms in the region.
Resource Constraints
At the most basic level, investigative journalists and researchers face resource constraints, particularly those attempting to cover digital rights, which discourage them from pursuing these issues and dedicating an adequate amount of time to researching them.
"it is hard to sustain yourself or make sure [that] if you're doing this type of work, it is paying off." – Joey Ayoub, MENA Editor at Global Voices and IFEX.
One journalist plainly stated that the primary challenge to advancing digital rights journalism is the same as the challenge to journalism in general: "time and money." Joey Ayoub, the MENA regional editor at IFEX, agreed that "it is hard to sustain yourself or make sure [that] if you're doing this type of work, it is paying off." Even some of the organizations dedicated to researching these issues, like JOSA, operate on a volunteer basis, which means that they are only able to work on these issues "when [they] have time," according to Jaradat. Moreover, investigative journalists and researchers not only need time cover these issues, but they need time to learn more about them as well, which makes the effect of resource constraints that much more acute.
Public Attitude
As a backdrop of all these challenges, convincing citizens that governments owe them digital rights is one of the biggest roadblocks to building more engagement on these issues. As one journalist who requested to remain anonymous stated: "[it is hard to convince people] that this subject is as important as any other rights issue."
A key contributing factor to the lack of digital rights coverage is a general ignorance about privacy issues in the region; as Ben-Hassine remarked, "a lot of average people don't yet understand how important their data is and it is important to break that down for them."
Sayadi noted that she heard journalists promote this idea with many of their peers, and yet they still were not convinced that privacy issues were important. Their responses changed at the mention of Article 24 of the Tunisian constitution, which guarantees the protection or personal data, but it is worrisome that these issues were even up for debate in the first place.
"People [in Lebanon] seem resigned to the injustice that is being perpetrated by the establishment parties and do not see any avenue for change." – Anonymous journalist covering Lebanon.
Apathy towards these issues also endures because citizens broadly across the region have lost faith in states' abilities to protect their right to privacy at many levels, let alone in the digital sphere.
An anonymous journalist covering Lebanon, where the government has extensive surveillance capabilities, expressed that "people [in Lebanon] seem resigned to the injustice that is being perpetrated by the establishment parties and do not see any avenue for change."
They added that when they talk to people about these issues, "the sentiment [they] keep getting…is that almost everyone has acquiesced to being constantly monitored." This outlook accentuates the necessity for critical journalists focused on privacy and digital rights issues in the region, especially with biometric collection regimes on the rise.
Similarly, some people believe that their countries face larger social issues and, consequently, that protecting their digital rights is less of a priority, or not a priority at all. For example, many Iraqis "are focusing on security, safety, and public services" and therefore are less concerned about their digital rights, according to Muhannad Munjed, a blogger and member of INSM.
Some Iraqis excuse the shutting down of the internet at various times because they worry that "some people are using [these online] platforms to spread violent [messages]," he said. Beyond security concerns, other Iraqis feel the government's decision to cut off the internet during middle school and high school exams is justified because they see preventing cheating as more important than continued internet access, Hamzoz told SMEX.
However, even with the relative indifference towards digital rights issues, there are still many ways that the coverage of these issues can be improved.
Going Forward
The journalists and researchers SMEX interviewed for this report also provided suggestions on the ways that investigative journalism and coverage of digital rights issues could be improved going forward, especially as these issues continue to become more prevalent in the international mainstream media.
Develop Relationships with Technologists
Developing local networks that connect journalists and researchers with technologists would help journalists understand the technical aspects of digital rights issues.
Journalists and researchers working with larger organizations and outlets reported that it was extremely beneficial. For example, Access Now has a technology team on staff, which Ben-Hassine feels "is on the cutting edge of issues when no one else is talking about [them]." Similarly, the anonymous journalist covering Lebanon is "lucky enough to be working with institutions that have a tech staff on hand that helps [them] with the technological aspect of these issues," and this interaction helps them cover these issues more thoroughly.
"It would be helpful to have "contacts for more technologists covering digital rights issues in each country." – Morgan.
However, many researchers and journalists do not have the complete backing of a technology team at their disposal. For example, al-Masri has technologists that she can contact, but "they reside outside of Jordan." Likewise, Morgan, who does "a lot of interviews with technologists" and "[reaches] out to them over Signal or other encrypted apps" felt that it would be helpful to have "contacts for more technologists covering digital rights issues in each country."
A more sustainable solution may look like a loose organization like INSM, where they have plenty of people they can contact and plenty of people working on digital security issues, according to Munjed and Hamzoz. Journalists joining networks with technologists may also help them find new angles for stories.
Strengthen Relationships Between Civil Society Organizations and Journalists
While acquiring more technical knowledge may help journalists, civil society organizations should also take initiative and help build the capacity of journalists across the MENA.
In some countries, where there are no organizations committed to defending digital rights, the development of such journalism is crucial because the reliance on advocacy organizations to cover these issues regionally leads to some "some gaps [in digital rights coverage] in Algeria, for instance, Mauritania, and Yemen," according to Afef Abrougui, a journalist for Global Voices and a researcher for Ranking Digital Rights. Emad al Saqqaf, a journalist based in Taiz, Yemen and the chairman of the Yemen Media Guide for Development Center, agreed that "training a team of media professionals" to cover these issues more thoroughly would help people understand and care about them. In order to mend these gaps and increase the coverage around these issues, Jaradat explained, "organizations in the field" must not only train these journalists, but also "identify journalists who have the capacity to understand [these issues]."
This relationship between journalists and civil society has to be reciprocal in order to ensure that these issues receive the proper attention, and that public knowledge around these issues expands across communities.
Therefore, as al-Masri suggested, investigative journalists and independent researchers should try "working with organisations and activists that advocate for these issues." Civil society organizations can play a role in developing the journalistic capability of researchers across the MENA, but the burden also lies on the editorial outlets themselves, to try to foster this connection.
Commitment to Critical Technology Beats
In addition to strengthening relationships with organizations researching these issues, regional outlets need to dedicate more resources to supporting critical journalists covering technology and digital rights issues in the MENA.
One of the journalists who requested anonymity offered that "it's easier to cultivate [government] sources when you're working on a beat rather than a one-off freelance piece." Writing about tech journalism in America, LaFrance also emphasized the importance of "drilling down on specific beats" and developing "micro-beats" in order to effectively cover technology and rights issues. This practice could be helpful around constantly evolving issues, such as biometrics or network throttling, if regional newspapers would be willing to allocate the resources.
Moreover, publications in the region should adopt a more critical stance. Many outlets in the region report on these issues, but often gloss over the most important details. For example, when covering the speed of internet access in Lebanon, Battah noticed that "the reality is obfuscated by the fact that you have a few government-friendly journalists who are tweeting about 300 megabytes per second…it's like [Syrian President Bashar al-] Assad giving a tour of Syria."
Though Battah's statement may be hyperbolic, it illuminates a legitimate issue with the coverage of government and corporate technology initiatives and demonstrates that many local publications need to analyze these issues through a more critical lens.
Dissemination
Investigative journalists, outlets, and researchers reporting on digital rights have trouble ensuring that articles on these topics reach a wide audience. Part of the difficulty stems from public apathy, as previously detailed, but producing more original content in Arabic and breaking it down could help as well.
Currently, there is a gap between the digital rights related content in English and Arabic; even the content in Arabic does not always get the message across. Abrougui, who mainly covers Tunisia, relayed that it might be useful "if we managed to have our stories translated into Arabic or into French." Yet, even Abrougui acknowledged the limitations of translation, explaining that Global Voices "tries to make sure that its content is translated into Arabic, but Global Voices Arabic doesn't have a big audience." Global Voices is also not a regional media outlet. While translation may allow these stories to reach more people, Morgan feels it is necessary to take it a step further and produce "infographics and animated videos in Arabic" to break down this content.
Producing this content tailored for social media is necessary because blog posts are "not efficient enough to transmit a message to the world," according to Sayadi. Thus, outlets and journalists should commit to producing more contextualized, digestible, multimedia content around digital rights work.
Amplification
There is only so much individual journalists or small organizations can do to promote these issues and sometimes they may require international media outlets to boost the message, but some issues in the region are more difficult to amplify than others. For example, Abrougui believes "what would help is a bigger platform where we could publish [digital rights] stories," instead of relying on the same platforms that are mainly frequented by readers who are already in the network.
Larger regional news outlets, however, are primarily interested in these issues when they intersect with geopolitical events, such as the internet shutdown that occurred in Yemen last December, which limits the scope of the issues they are willing to cover.
Unsurprisingly, journalists and researchers focused on digital rights in Palestine often have considerable trouble getting their issues covered by larger media outlets. Both Fatafta and the spokesperson from 7amleh center revealed that they often face a resistance to coverage of Palestinian stories in a digital rights context. For its stories to reach more people, 7amleh needs "more contacts to international journalists (that are actually willing to cover Palestine-related issues) in order to reach mainstream media."
Expanding on this issue, Fatafta explained she "always senses a bit of reservation because of [perceived] red lines…As a Palestinian, you are always seen as biased and feel you have to be neutral." The digital rights community needs to work to shift this paradigm to ensure that all issues can reach stakeholders.
Now, more than ever, critical coverage of regional digital rights issues and the amplification of such coverage is necessary as these issues gain more exposure in the international media. While there are currently many shortcomings in the MENA region, there are also many opportunities.
Access Now's defeat of the draft biometric legislation in Tunisia and the expanded coverage on internet shutdowns is evidence that more and more attention is being paid to these issues. The Cambridge Analytica scandal has had regional reverberations and there is piqued interested in data protection and privacy issues. Still, investigative journalism and research on digital rights issues faces many roadblocks. Hopefully, an improved understanding of these difficulties will lead to improved coverage.
This piece was supported by Meedan and the MENA Investigative Fund.