In the coming days, Qatar will find itself at the center of attention. The country is hosting one of the biggest sporting events on the planet: the FIFA World Cup. In response, SMEX and Ranking Digital Rights (RDR) are teaming up to launch Red Card on Digital Rights: a three-parties series investigating the state of the internet and digital surveillance in Qatar as the country hosts this year's World Cup amid a slew of criticism over its human rights record.
People from countries around the globe are traveling to Qatar to enjoy or cover the event. Social media is replete with travelers' tips, places to visit, and hints to avoid the culture shock some tourists may experience when visiting this tiny Arab state. But there's something else that's important for every person traveling to Qatar to keep in mind: Though it is among the most connected countries in the Arab world, internet use is heavily censored (e.g. restrictions on the use of voice and video calling apps). Qatar also performs systematic internet surveillance, though it has not yet attracted much international attention for it. But now, as the host of  a global event of this magnitude, that could quickly change. Be careful what content you access online, because we expect that football players won't be the only ones being watched during this World Cup.
But, first, let's begin by exploring Qatar's little-known internet ecosystem: Telecommunications services providers in the country are licensed by the Communications Regulatory Authority (CRA). It is affiliated with the Ministry of Communications and Information Technology.
Currently, there are two telecom companies operating in the country: Ooredoo and Vodafone Qatar. Ooredoo was founded in Doha in 1987 (its former name was Qtel until 2013). Its shares are publicly listed on the Qatar Stock Exchange and the Abu Dhabi Securities Exchange, but it's mainly owned by entities tied to the Qatari government. Vodafone Qatar is a subsidiary of the British multinational telecommunications company of the same name and has a smaller presence in the country. Both companies perform poorly on human rights; RDR will soon be launching its Telco Giants Scorecard, which includes Ooredoo. The company has the lowest general score of the 12 companies ranked, owing to its almost complete lack of transparency. Part 2 of this series will explore these results further.
Sadly, your internet provider won't be your only concern. Everyone going to Qatar during the World Cup will be asked to download the Hayya to Qatar 2022 app, which is the official World Cup app used to manage entry permits to the country, keep track of match tickets, and provide access to stadiums and public transport for free during the tournament. 
Spectators attending the World Cup, and the journalists covering it, are in the dark about what measures and policies Qatar's Supreme Committee for Delivery and Legacy (SC)—tasked with the planning and operations for the hosting of this year's tournament—has in place to protect their information when they download the Hayya app. The app's privacy policy is transparent about what user information it collects and how, but does not list all the types of user information it infers nor everything it shares, nor its purposes for doing so. It is unclear for how long user information is retained by the app. The policy also provides scarce information surrounding surveillance. It does not clearly state its process for responding to government demands for user information of Hayya app and portal users. It mostly offers vague statements that it may disclose information to comply with legal obligations inside and outside Qatar. Read more about SMEX's assessment of Hayya's policies using the RDR methodology here. Read more about SMEX's assessment of Hayya's policies using the RDR methodology here. 
During the pandemic, Qatar developed a COVID-19 tracking app called Ehteraz, which was previously mandatory for entering the country, but is still required to access the country's health facilities.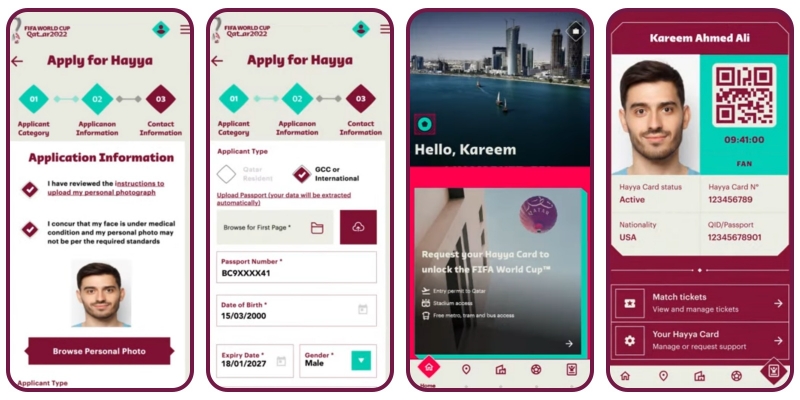 Qatari authorities require  ISPs to filter pornography, political criticism, and any information in apparent violation of Islam's moral principles. This includes LGBTQ+ content and sexual health resources. 
In other words, Qatar is clearly a hostile place for digital rights. But we got you covered! Just as, these days, influencers are sharing their travel tips for those who will visit Qatar, including how to deal with jetlag, how to cope with the heat, where to eat, how to dress, etc. we've got you covered with security best practices that will help you protect your privacy.
Digital safety travel tips
It's a good time to check if your passwords are strong enough, and review whether you have 2-factor authentication activated on all your services.
Remember: Encryption is your best ally against surveillance, so make sure you always connect using HTTPS or using official and secure mobile apps. RDR's most recent Big Tech Scorecard summarizes which famous digital platforms clearly disclose that they encrypt the transmission of personal communications by default, making them safer to use. Also, keep in mind that not only your cell phone but also your laptop can have encrypted drives.
When connecting to the internet, try to rely on your own mobile connection and only connect to Wi-Fi networks that you truly trust. Using a VPN service would also help to avoid Qatar's restrictions and also to enhance your privacy. Although the country has imposed some restrictive cybercrime laws and engages in internet censorship, there are no reports of VPN restrictions.
Regarding apps, since Ehteraz is no longer required it's better to avoid installing it. However, the Hayya app is mandatory to enter both the country and the stadiums, so you cannot opt out of installing it on your phone. Instead, you can keep it as isolated as possible from the rest of the data on your device. Try to give these apps as few permissions as possible and restrict them to background mode. Operating systems have improved their security measures over time, so it's better to use the most-up-to-date phones (Android 11 or higher, and iOS 16 or higher).
All Hayya app users have the option to access Ooredoo's Hayya SIM card, which includes 2022 MB of mobile data. It's always tempting to enjoy free internet access, but you should consider keeping your home country line and using its roaming service instead. Ooredoo is utilizing sophisticated artificial intelligence technology as part of its digital onboarding process. This means that you will have to give up your biometric facial data if you want to use the Hayya SIM.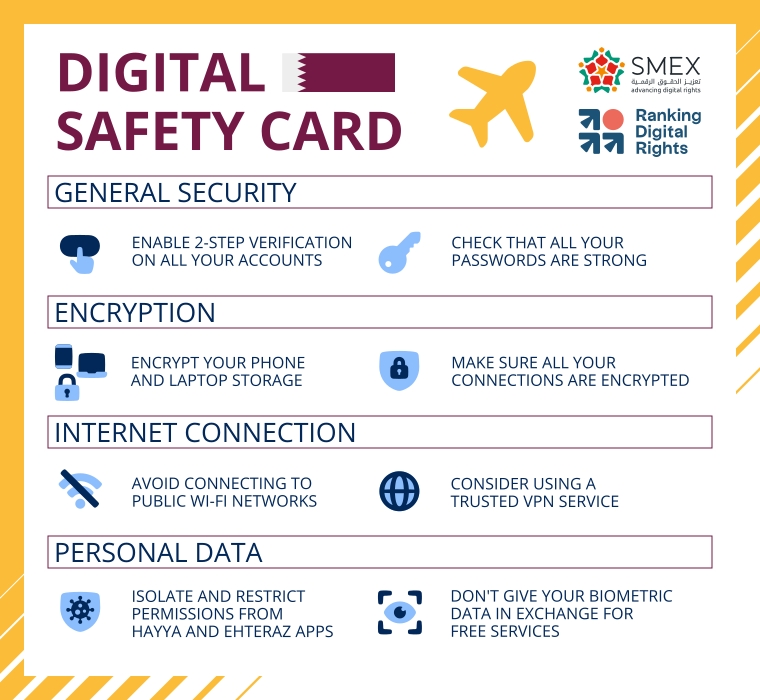 Covering digital rights during the World Cup
Journalists and activists on the field are likely to encounter a variety of human rights and technology stories worth covering, including ones related to violations of freedom of expression online, restrictions on services like VoIP apps, surveillance technology, and other digital rights issues. SMEX has an open call for stories.Those covering these stories may want to make sure they're getting the full picture of what's going on. This might mean verifying how restricted your internet is, and how much potentially vital content you might be unable to access. To do so, you can conduct some tests and experiments. The Open Observatory of Network Interference (OONI) provides a testing kit to check which websites, messaging platforms, and services, including VPNs, are blocked. You can install the OONI Probe app on your laptop or mobile.
Nowadays, using a cellphone and staying connected 24/7 is the norm for most people. This will be particularly true for those who will be in Qatar to tell the stories of the games, or to use them as a platform for human rights advocacy. Authoritarian governments will take advantage of this situation. The FIFA World Cup in Qatar will prove an important experiment in how easily people will give up on their privacy during major events, using surveillance technology disguised as cool apps. The ball is already rolling on the human rights field, and it seems it will be a complicated match.
To follow up on our coverage about surveillance and internet restrictions in Qatar, we will publish a second part of this series during the tournament, where we will dig deeper into the Hayya app and Ooredoo's policies. Stay tuned!
This page is available in a different language العربية (Arabic) هذه الصفحة متوفرة بلغة مختلفة