SMEX launched the inaugural Mariam Al-Shafei Fellowship on Technology and Human Rights in November 2022 to bring new minds and voices to the digital rights field, raise innovative solutions to the many-layered issues that govern the use and access to the internet, and expand research on emerging topics within digital rights in the MENA region. 
We have renamed the fellowship to "Mariam Al-Shafei Fellowship on Technology and Human Rights" to honor the legacy of one of our founding colleagues, Mariam Al-Shafei, who passed away on December 29, 2022. We hope this move pays homage to her contributions and efforts in coordinating this project before her passing and to the remarkable life she had lived. In 2016, Mariam survived a stroke that completely changed her life. At age 28, she was temporarily paralyzed and developed post-stroke Aphasia. Mariam lost the ability to speak, walk, write, and read—and her partial recovery took years of daily struggle and toil. Mariam dedicated much of her life to raising awareness about living with these conditions and used social media to document her healing journey openly and unapologetically. In all her posts, her consistent message to her followers centered on finding true joy in life's simple pleasures. 
About the Fellowship
New technologies are at the heart of struggles for rights in the WANA region, offering unprecedented opportunities for freedom of expression, networking, and mobilization. These technologies also, however, have been assimilated into existing systems of control, leading to a host of threats, from privacy breaches to targeted harassment and suppression of dissent. Authoritarian regimes across the region have invested in new tools that surveil citizens while nurturing business partnerships with big tech companies that place profits over human rights.
Over the last two decades, digital platforms have been used to build spaces of liberation and organizing by marginalized communities in the region, including LGBTQ+ individuals and migrant domestic workers fighting back against the repressive Kafala system. SMEX seeks to expand this space where digital resilience and social justice issues intersect by advancing knowledge and cultivating engagement among the region's scholars, advocates, journalists, artists, and analysts.
Out of 150 applicants, we have selected five fellows who exhibited outstanding research skills and remarkable expertise in their fields of work. Narrowing down the choice to only five candidates was complex, as many applicants fit the selection criteria. You can read about the work of each fellow in the section below. 
2023 Fellows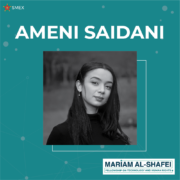 Ameni Saidani
Ameni Saidani is an advocate for the rights of persons with disabilities. Ameni holds two Master's degrees, one in Disability and Rehabilitation and another in Sign Language Translation. She is also the Vice Treasurer of the Sports and Educational Academy for the Deaf, working tirelessly to promote accessibility for individuals with disabilities. Ameni is known for her involvement in organizing and translating press forums and seminars into sign language to ensure that persons with disabilities have access to all areas of life, as specified in international legislation and covenants. She is currently leading a project at the Ibsar Association for the Visually Impaired to increase the participation of persons with disabilities in political life and public affairs.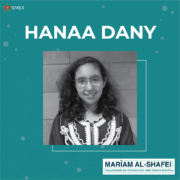 Hanaa Dany
Hanaa Dany is a computer science alumna from the American University of Beirut. Hanaa, an Amazigh from the Souss region of Morocco, is passionate about promoting digital safety and advocating for digital rights. With a focus on neglected communities in her home country, Hanaa is dedicated to bridging the urban-rural divide by researching the use of technology and the internet in rural communities. Her research focuses on youth and adolescents in these communities and aims to help them make the most of the resources a free and secure internet offers.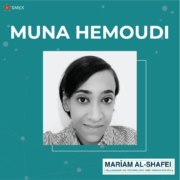 Muna Hemoudi
Muna Hemoudi is a leading voice in advocating for access to telecommunications services and combating the digital divide in Sudan. With her extensive experience as a professional project manager, internet freedom researcher, tech policy analyst, and FOSS (Free and Open Source Software) enthusiast, Muna is dedicated to defending rights and freedoms at the intersection of human rights and technology.
Muna's work in the digital rights community dates back to 2018 as a digital security trainer for several civil society organizations. She later joined Localization Lab, where she managed the localization projects of internet freedom tools and digital security resources, built community, and fostered collaboration between developers, end users, and regional organizational partners. Muna also has a background in telecommunications. She has worked at several telecommunication companies and Internet Service Providers in Sudan and has extensive experience operating and managing internet core networks. She holds a Bachelor's degree in Telecommunication Engineering from the University of Khartoum and an advanced diploma in Internet Governance from DiploFoundation.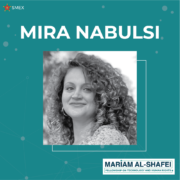 Mira Nabulsi
Mira Nabulsi is a Palestinian researcher, activist, and media and digital content expert. Mira is passionate about exploring the impact of media and technology on marginalized communities and the limitations and censorship of social media on social and political movements. As a SMEX fellow, she is focused on researching the opportunities and restrictions on social media for content creators advocating for sexual and reproductive health and rights.
Mira has co-authored two books: "Teen Lives around the World: A Global Encyclopedia," published in 2019, and "Wired Citizenship: Youth Learning and Activism in the Middle East," published by Routledge in 2014. She holds Master's degrees in Peace, Conflict, and Development Studies and Communication Studies and has extensive experience in the non-profit and radio sectors. She has also worked at Apple Inc. as an international editor for the Apple Podcasts platform. Mira is also a dedicated member of the Palestinian Feminist Collective.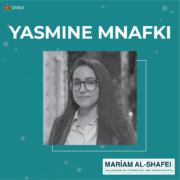 Yasmine Mnafki
Yasmine studies Computer Science at the Lebanese American University. Yasmine's academic achievements have been recognized with the MEPI-TLU scholarship from the US Department of State, which supports her studies and furthers her career goals. During her time in the program, Yasmine has honed her technical skills in software development and computer security, and she has a keen interest in digital transformation and online safety. As a research assistant with SMEX, Yasmine will research the tools and policies used by organizations in the WANA region to promote digital safety for minorities and organizations handling sensitive data. Her research will assess the effectiveness of these tools and policies and identify opportunities for improvement.

This article can be found in Arabic