Palestinian journalist Hani Al-Shaer was not surprised when his Facebook account was deleted for the tenth time during the past three years. However, he was surprised to receive a letter in June from the social media company stating that he has not adhered to the Facebook Community Standards. This came as a surprise since he has become  an expert at steering away from any content deemed incendiary or hate speech  by Facebook.
"The strategy adopted by social platforms is prejudiced. We are defending opinions and freedoms. We are covering events in an occupied country," said Al-Shaer to SMEX. He asserted that his recent posts have not violated Facebook standards; rather, they have focused on fighting the COVID-19 pandemic in the Palestinian community. Al-Shaer, a journalist working south of the Gaza Strip, believes that what happened to him and what is happening to dozens of other Palestinian journalists in terms of banning posts and deleting accounts undermines journalists' efforts and threatens their future career; especially that they lose their followers and the content posted over the years every time this happens.
After almost three years of this ongoing situation, social media users in Palestine, chiefly journalists and public figures, have been prompted to reconsider some posts to avoid having content deleted or banned, particularly content including patriotic sentiments. Deleting Palestinian content first started in 2016, when Facebook began deleting numerous posts and accounts. Other platforms such as Twitter and Instagram soon followed suit under the pretext of the US Anti-Terrorism Act, as explained to SMEX by Iyad Al-Rifai, Directorof the Sada Social Center, a youth iniative  defending users' digital rights in Palestine. Al-Rifai noted that "every 66 seconds there is one inflammatory post against Arabs and Palestinians published by Israelis, yet Facebook does nothing."
Over the past year, Sada Social Center has documented more than 950 violations against Palestinian content. From January to August 2020, 641 violations have been recorded on social media, most of which on Facebook. March registered the highest rate with 226 violations.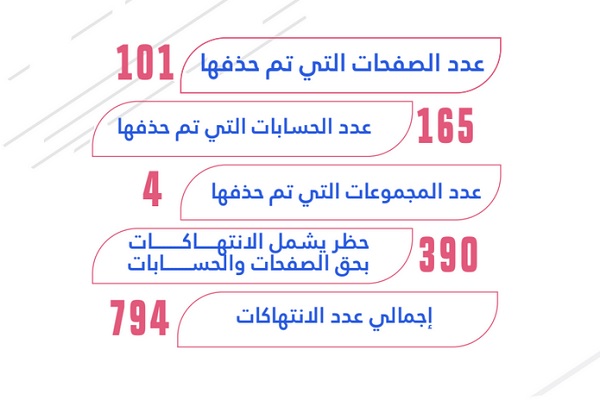 Palestinian users seek to restore their accounts and voice their protest in different ways. Sada Social Center was able to restore dozens of Facebook accounts after helping users file an appeal to the company. The Center is still awaiting Facebook's response on more than 400 other requests. According to Al-Rifai, the American company claims that delayed responses are due to the COVID-19 pandemic. Taking matters into their own hands, users in Palestine have done some protest initiatives such as resorting to giving low ratings to social media applications on app stores, mainly Facebook, to reduce their visibility and limit interactions. Al-Rifai believes that this step has achieved its objectives by getting the message across to social media companies, insisting that "Palestinians want to enjoy the freedom of expression and the freedom to post and express themselves just like other users on the site."
Deleting Posts and Accounts: A Constant Threat
Amin Abed is a civil society activist in the Jabalia Camp, north of Gaza, whose Facebook account is often under a temporary 24-hour ban every time he posts about "solidarity with captives in Israeli prisons", Abed said to SMEX. The last time he tried to restore his Facebook account a month ago, he received a message stating that "he can no longer use Facebook."
Abed has faced the same issue with some posts on Twitter and photos on Instagram, before his accounts on all three platforms were permanently disabled and he was prevented from restoring them. As for the reason, he believes that "the Israeli government is pressuring social media companies to crack down on Palestinian accounts under claims of provocation and violence." Nonetheless, he sees no reason for deleting the accounts, especially that most posts "do not promote violence or hate, but rather voice demands for our legitimate rights as a people." According to Abed, the actions of social media companies are "oppressing our digital rights as well as our right to express our solidarity with captives for example, a right guaranteed under international humanitarian law."
Content creators in Palestine were not spared from content moderation, deleting posts and suspending accounts. Hassan Al-Daoudi, specialist in digital research, said in an interview with SMEX, that "the strategy of social media platforms threatens the digital rights of Palestinian content creators, activists and journalists." Al-Daoudi asserts that social platforms may ban an account even if its owner is not the one who wrote the post, stating that this had happened with him personally. His account was disabled for sharing a post with the logo of  the "Popular Front for the Liberation of Palestine," which the United States designated as a terrorist group in 1997, although he was not the one who wrote the original post.
According to the digital research specialist, this approach is due to Facebook's close cooperation with Israeli authorities and bias against Palestinian content, especially since Facebook responds to around 85% of Israeli requests for deleting content "they deem terror-related or offensive." On the recent issue of the repeated blocking and banning of posts containing common Palestinian words related to resisting the occupation, Palestinian political parties, martyrs and captives, Al-Daoudi stated that "Facebook has developed an AI algorithm that automatically deletes posts containing specific words without notifying the author of the post."
Solutions to Counter or Avoid Deletions
The violations against Palestinian content are being tracked by some civil organizations such as Sada Social Centre and 7amleh, the Arab Center for the Advancement of Social Media. Users in Palestine counter the algorithm which deletes their content by using innovative tricks. Since users have become familiar with the key words detected by the algorithm, particularly in Arabic, (i.e. captive, martyr, resistance, Hamas, Islamic Jihad Organization, fedayeen, Popular Front for the Liberation of Palestine), they are now attempting to circumvent the algorithm by sectioning the words or incorporating Latin letters to avoid detection. This is the method Ahmad Al-Najjar, a journalist in Gaza using Facebook to post breaking news, used to trick social media algorithms that classified a large number of words often used by Palestinians as hate speech. Al-Najjar, whose Facebook account was deleted twice and banned several times, indicated that  he believes this method is "a good way to avoid the account being deleted or banned, for now at least."
On the other hand, Al-Daoudi assured SMEX that there are no drastic solutions that prevent content moderation and account blocking due to social media platforms' advanced algorithms banning specific terms, despite posting from outside of Palestine or using VPN service.
Al-Daoudi holds all Palestinian officials accountable, including the government in the Gaza Strip, the Palestinian National Authority (PNA) and Palestinian parties for "staying silent and not getting our voice across to Facebook like the Israelis." Therefore, Al-Daoudi believes that this violation of Palestinian digital rights is due to these platforms' bias as well as the inaction of the Palestinian authorities to take effective measures of protest against social media companies' partiality. "The continued failure to engage with social media companies on this issue will only aggravate the situation in the near future," concluded Al-Daoudi.
This page is available in a different language العربية (Arabic) هذه الصفحة متوفرة بلغة مختلفة